Dirithromycin
LY 237216
(1R,2R,3R,6R,7S,8S,9R,10R,12R,13S,15R,17S)-9-{[(2S,3R,4S,6R)-4-(dimethylamino)-3-hydroxy-6-methyloxan-2-yl]oxy}-3-ethyl-2,10-dihydroxy-7-{[(2R,4R,5S,6S)-5-hydroxy-4-methoxy-4,6-dimethyloxan-2-yl]oxy}-15-[(2-methoxyethoxy)methyl]-2,6,8,10,12,17-hexamethyl-4,16-dioxa-14-azabicyclo[11.3.1]heptadecan-5-one
UNII1801D76STL
CAS number62013-04-1
Synthesis Reference
Counter FT, Ensminger PW, Preston DA, Wu CY, Greene JM, Felty-Duckworth AM, Paschal JW, Kirst HA: Synthesis and antimicrobial evaluation of dirithromycin (AS-E 136; LY237216), a new macrolide antibiotic derived from erythromycin. Antimicrob Agents Chemother. 1991 Jun;35(6):1116-26. Pubmed.
Dirithromycin
CAS Registry Number: 62013-04-1
CAS Name: (1R,2R,3R,6R,7S,8S,9R,10R,12R,13S,15R,17S)-7-[(2,6-Dideoxy-3-C-methyl-3-O-methyl-a-L-ribo-hexopyranosyl)oxy]-3-ethyl-2,10-dihydroxy-15-[(2-methoxyethoxy)methyl]-2,6,8,10,12,17-hexamethyl-9-[[3,4,6-trideoxy-3-(dimethylamino)-b-D-xylo-hexopyranosyl]oxy]-4,16-dioxa-14-azabicyclo[11.3.1]heptadecan-5-one
Additional Names: [9S(R)]-9-deoxo-11-deoxy-9,11-[imino[2-(2-methoxyethoxy)ethylidene]oxy]erythromycin
Manufacturers' Codes: LY-237216; AS-E 136
Trademarks: Dynabac (Lilly); Noriclan (Lilly); Nortron (Lilly); Valodin (Ferrer)
Molecular Formula: C42H78N2O14
Molecular Weight: 835.07
Percent Composition: C 60.41%, H 9.41%, N 3.35%, O 26.82%
Literature References: Semi-synthetic derivative of erythromycin, q.v. Prepn: BE 840431 (1976 to Thomae); R. Maier et al., US 4048306 (1977 to Boehringer, Ing.). Synthesis, 1H- and 13C-NMR, and antimicrobial evaluation: F. T. Counter et al., Antimicrob. Agents Chemother. 35, 1116 (1991). X-ray structure determn: P. Luger, R. Maier, J. Cryst. Mol. Struct. 9, 329 (1979). HPLC determn in plasma: G. W. Whitaker, T. D. Lindstrom, J. Liq. Chromatogr. 11, 3011 (1988). Symposium on antibacterial activity, pharmacology, and clinical experience: J. Antimicrob. Chemother. 31, Suppl. C, 1-185 (1993).
Properties: Crystals from ethanol/water, mp 186-189° (dec) (Counter). pKa 9.0 in 66% aq dimethyl fluoride. LD50 in mice (g/kg): >1 s.c.; >1 orally (Maier).
Melting point: mp 186-189° (dec) (Counter)
pKa: pKa 9.0 in 66% aq dimethyl fluoride
Toxicity data: LD50 in mice (g/kg): >1 s.c.; >1 orally (Maier)
Therap-Cat: Antibacterial.
Keywords: Antibacterial (Antibiotics); Macrolides.
Dirithromycin is a macrolide glycopeptide antibiotic.[1]
For the treatment of the following mild-to-moderate infections caused by susceptible strains of microorganisms: acute bacterial exacerbations of chronic bronchitis, secondary bacterial infection of acute bronchitis, community-acquired pneumonia, pharyngitis/tonsilitis, and uncomplicated skin and skin structure infections.
Dirithromycin (Dynabac) is a more lipid-soluble prodrug derivative of 9S-erythromycyclamine prepared by condensation of the latter with 2-(2-methoxyethoxy)acetaldehyde. The 9N, 11O-oxazine ring thus formed is a hemi-aminal that is unstable under both acidic and alkaline aqueous conditions and undergoes spontaneous hydrolysis to form erythromycyclamine. Erythromycyclamine is a semisynthetic derivative of erythromycin in which the 9-ketogroup of the erythronolide ring has been converted to an amino group. Erythromycyclamine retains the antibacterial properties of erythromycin oral administration. The prodrug, dirithromycin, is provided as enteric coated tablets to protect it from acid catalyzed hydrolysis in the stomach. Orally administered dirithromycin is absorbed rapidly into the plasma, largely from the small intestine. Spontaneous hydrolysis to erythromycyclamine occurs in the plasma. Oral bioavailability is estimated to be about 10%, but food does not affect absorption of the prodrug.
Discontinuation
Dirithromycin is no longer available in the United States.[2] Since the production of dirithromycin is discontinued in the U.S, National Institutes of Health recommend that people taking dirithromycin should consult their physicians to discuss switching to another treatment.[3] However, dirithromycin is still available in many European countries.
Clip
https://chemistry-europe.onlinelibrary.wiley.com/doi/10.1002/chem.201902716
In attempts to modify the C-9 keto moiety of erythromycin, (9S)-erythromycinylamine (21) was prepared by the reduction of oxime 17 with sodium borohydride (Scheme 4).[13] Amine 21 displayed good in vitro antimicrobial activity against Staphylococcus aureus, [38–44] but had poor bioavailability due to the polar primary amine. In search of compounds in this class with better oral bioavailability, efforts were directed towards masking the amine in 21 as an imine with aromatic and aliphatic aldehydes.[40] These efforts were based on the idea that such imines would be hydrolysed at physiological pH after absorption from the intestine, but somewhat unexpectedly, lead to the discovery of dirithromycin (4) when 21 was treated with aldehyde 22. In this reaction, 9- N-11-O-oxazine epi-dirithromycin (23) is first formed as the kinetic product, which then undergoes conversion into the thermodynamically stable dirithromycin (4).[45–47] Due to issues with the stability of aldehyde 22 on process-scale synthesis, this procedure was later modified so that dimethyl acetal 24 was used for commercial production.[48]
13] S. Djokic´, Z. Tamburasˇev, Tetrahedron Lett. 1967, 8, 1645 – 1647.
[38] R. Maier, E. Woitun, B. Wetzel, W. Reuter, H. Goeth, U. Lechner, 1977, US4048306A. [39] E. Wildsmith, 1974, US3780019A. [40] E. H. Massey, B. S. Kitchell, L. D. Martin, K. Gerzon, J. Med. Chem. 1974, 17, 105 – 107. [41] E. Wildsmith, Tetrahedron Lett. 1972, 13, 29 – 30. [42] K. Gerzon, M. H. William, DPMA Deutsches Patent, 1972, DE1966310A1. [43] G. H. Timms, E. Wildsmith, Tetrahedron Lett. 1971, 12, 195 – 198. [44] E. H. Massey, B. Kitchell, L. D. Martin, K. Gerzon, H. W. Murphy, Tetrahedron Lett. 1970, 11, 157 – 160. [45] P. Luger, R. Maier, J. Cryst. Mol. Struct. 1979, 9, 329 – 338. [46] F. T. Counter, P. W. Ensminger, D. A. Preston, C. Y. Wu, J. M. Greene, A. M. Felty-Duckworth, J. W. Paschal, H. A. Kirst, Antimicrob. Agents Chemother. 1991, 35, 1116 – 1126. [47] J. Firl, A. Prox, P. Luger, R. Maier, E. Woitun, K. Daneck, J. Antibiot. 1990, 43, 1271 – 1277. [48] J. M. Mcgill, Synthesis 1993, 11, 1089 – 1091.
Clip
Dirithromycin is the second-generation erythromycin macrocyclic (fourteen member ring) lactone antibiotics; made from the condensation reaction between 2-methoxyethoxy acetaldehyde and erythromycylamine. It has similar structure to erythromycin. It can subject to in vivo non-enzymatic hydrolysis into erythromycin cyclic amines. It takes effect through targeting the 50S ribosomal subunit of sensitive pathogenic microorganisms, blocking the bacterial peptide bond formation, which further inhibits protein synthesis to play antibacterial activity.
Compared with erythromycin and other new macrocyclic lactone antibiotics, this drug has the following characteristics: (1) antibacterial effect: in addition to retaining the antibacterial effect against gram positive bacteria; it also has strong effect on a variety of G- bacteria, Anaerobic bacteria and other pathogens, such as Mycoplasma, Chlamydia and spirochete. Dirithromycin has stronger effect than erythromycin on Staphylococcus aureus and Staphylococcus epidermidis. (2) Pharmacokinetics: compared with other macrolide antibiotics in the vine, the half-life of erythromycin is longer with the plasma elimination tl/2 being longer than 24h. Its tissue permeability is strong. It can be administered once a day. So it will also be competitive in the market with characteristics that are different from other antibiotics.
Lilly's products in the United States was listed in Spain in September 1993, listed in 1996 in US after the approval of FDA and had been included in Pharmacopoeia USP 23; it was listed in 2005 in the domestic market. At present, there are a number of domestic dysthromycin enteric-coated tablets and enteric-coated capsules approved for clinical use.
Synthetic route
Route 1: erythromycin is first reacted with hydrazine hydrate to generate erythromycin hydrazone (2), erythromycin hydrazone is used for synthesizing erythromycylamine (3), and finally reacted with 2-methoxyethoxy acetaldehyde (5) to generate dysthromycin (1), as shown in the figure:
Route 2: Erythromycin is reacted with hydroxylamine to generate erythromycin oxime; erythromycin oxime can be reduced to obtain erythromycin amine, and is then condensed with 2- (2- methoxyethoxy) acetaldehyde ethylene glycol to generate dysthromycin (DRM), the specific reaction route is as follows:
Clip
https://link.springer.com/article/10.1007/s00894-003-0172-7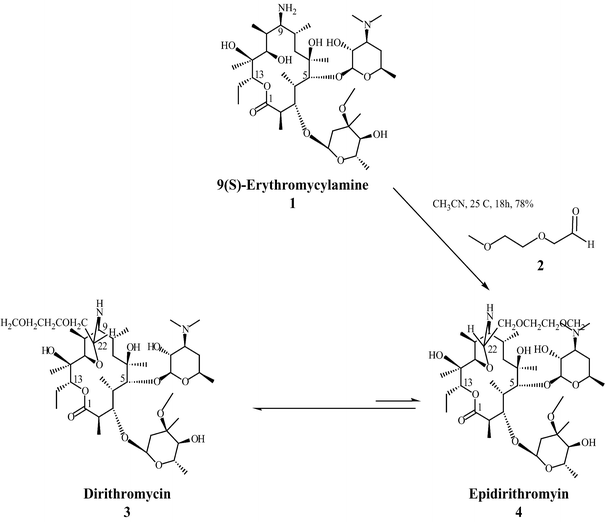 References
Dirithromycin

Clinical data
Trade names
Dynabac
AHFS/Drugs.com
Micromedex Detailed Consumer Information
MedlinePlus
a604026
License data
Pregnancy
category
Routes of
administration
Oral
ATC code
Pharmacokinetic data
Bioavailability
10%
Protein binding
15 to 30%
Metabolism
Hyrolized to erythromycyclamine in 1.5 hours
Identifiers
CAS Number
PubChem CID
DrugBank
ChemSpider
UNII
KEGG
ChEBI
ChEMBL
CompTox Dashboard (EPA)

ECHA InfoCard

100.152.704 
Chemical and physical data
Formula

C

42

H

78

N

2

O

14
Molar mass

835.086

 g·mol−1
3D model (JSmol)
Melting point
186 to 189 °C (367 to 372 °F) (dec.)

InChI=1S/C42H78N2O14/c1-15-29-42(10,49)37-24(4)32(43-30(56-37)21-52-17-16-50-13)22(2)19-40(8,48)36(58-39-33(45)28(44(11)12)18-23(3)53-39)25(5)34(26(6)38(47)55-29)57-31-20-41(9,51-14)35(46)27(7)54-31/h22-37,39,43,45-46,48-49H,15-21H2,1-14H3/t22-,23-,24+,25+,26-,27+,28+,29-,30-,31+,32+,33-,34+,35+,36-,37+,39+,40-,41-,42-/m1/s1

 

Key:WLOHNSSYAXHWNR-NXPDYKKBSA-N

 

  (what is this?)  (verify)
/////////// Dirithromycin, LY 237216, LY-237216, Antibacterial
#Dirithromycin, #LY 237216, #LY-237216, #Antibacterial