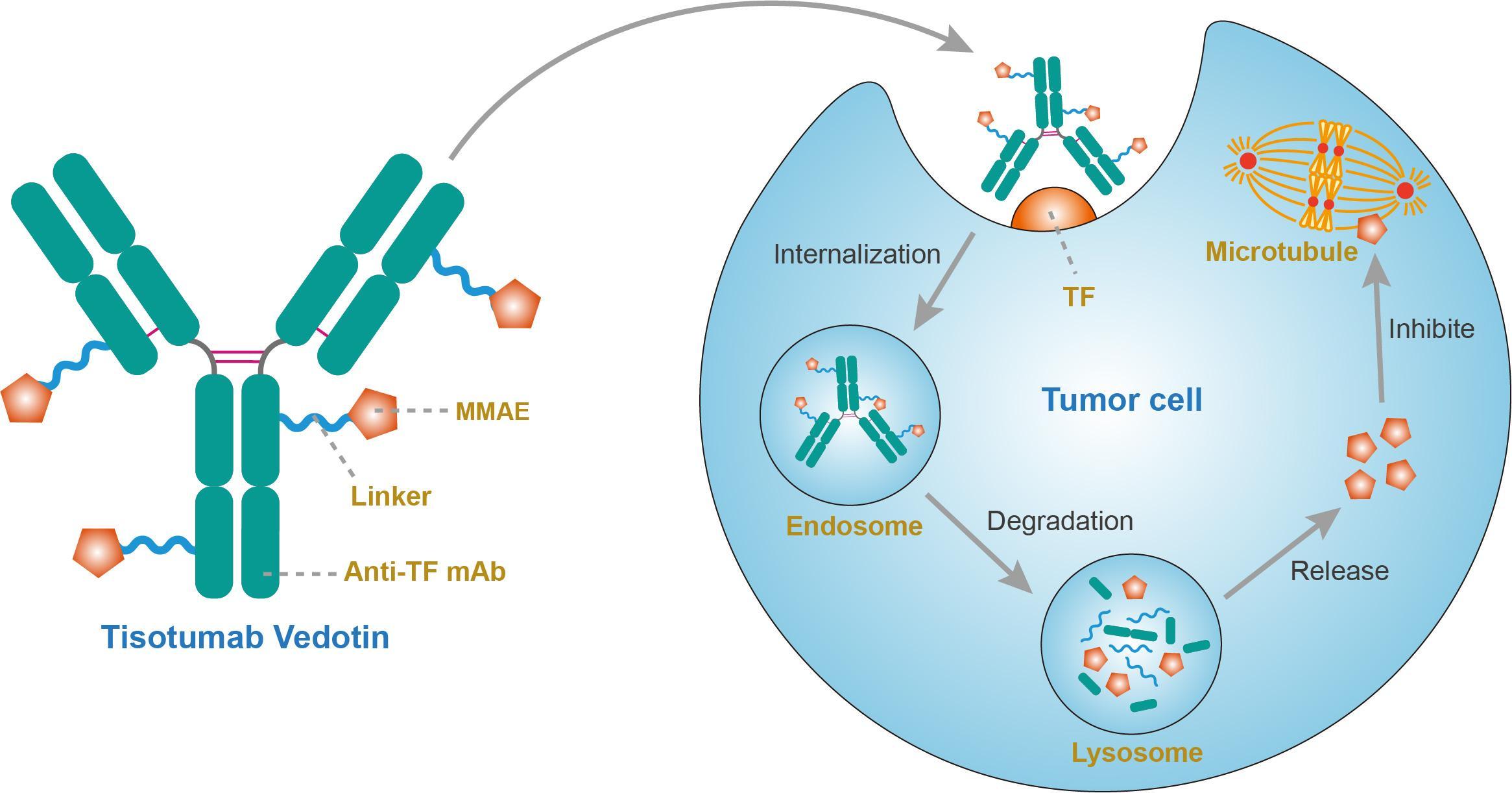 Tisotumab vedotin
チソツマブベドチン (遺伝子組換え)
Immunoglobulin G1, anti-(human blood-coagulation factor III) (human monoclonal HuMax-TF heavy chain), disulfide with human monoclonal HuMax-TF κ-chain, dimer, tetrakis(thioether) with N-[[[4-[[N-[6-(3-mercapto-2,5-dioxo-1-pyrrolidinyl)-1-oxohexyl]-L-valyl-N5-(aminocarbonyl)-L-ornithyl]amino]phenyl]methoxy]carbonyl]-N-methyl-L-valyl-N-[(1S,2R)-4-[(2S)-2-[(1R,2R)-3-[[(1R,2S)-2-hydroxy-1-methyl-2-phenylethyl]amino]-1-methoxy-2-methyl-3-oxopropyl]-1-pyrrolidinyl]-2-methoxy-1-[(1S)-1-methylpropyl]-4-oxobutyl]-N-methyl-L-valinamide
HuMax-TF-ADC
Immunoglobulin G1, anti-(human tissue factor) (human monoclonal HuMax-TF heavy chain), disulfide with human monoclonal HuMax-TF κ-chain, dimer, tetrakis(thioether) with N-[[[4-[[N-[6-(3-mercapto-2,5-dioxo-1-pyrrolidinyl)-1-oxohexyl]-L-valyl-N5-(aminocarbonyl)-L-ornithyl]amino]phenyl]methoxy]carbonyl]-N-methyl-L-valyl-N-[(1S,2R)-4-[(2S)-2-[(1R,2R)-3-[[(1R,2S)-2-hydroxy-1-methyl-2-phenylethyl]amino]-1-methoxy-2-methyl-3-oxopropyl]-1-pyrrolidinyl]-2-methoxy-1-[(1S)-1-methylpropyl]-4-oxobutyl]-N-methyl-L-valinamide
Protein Sequence
Sequence Length: 1324, 448, 448, 214, 214multichain; modified (modifications unspecified)
| | |
| --- | --- |
| Formula | C6418H9906N1710O2022S44.(C68H106N11O15)n |
| Efficacy | Antineoplastic |
|   Disease | Cervical cancer |
| Comment | Antibody-drug conjugate |
HuMax-TF-ADC
Tisotumab vedotin
Tisotumab vedotin [WHO-DD]
UNII-T41737F88A
WHO 10148
US FDA APPROVED 2021/9/20 , TIVDAK
FDA grants accelerated approval to tisotumab vedotin-tftv for recurrent or metastatic cervical cancer………..  https://www.fda.gov/drugs/resources-information-approved-drugs/fda-grants-accelerated-approval-tisotumab-vedotin-tftv-recurrent-or-metastatic-cervical-cancer
On September 20, 2021, the Food and Drug Administration granted accelerated approval to tisotumab vedotin-tftv (Tivdak, Seagen Inc.), a tissue factor-directed antibody and microtubule inhibitor conjugate, for adult patients with recurrent or metastatic cervical cancer with disease progression on or after chemotherapy.
Approval was based on innovaTV 204, an open-label, multicenter, single-arm clinical trial (NCT03438396). Efficacy was evaluated in 101 patients with recurrent or metastatic cervical cancer who had received no more than two prior systemic regimens in the recurrent or metastatic setting, including at least one prior platinum-based chemotherapy regimen. Sixty-nine percent of patients had received bevacizumab as part of prior systemic therapy. Patients received tisotumab vedotin-tftv 2 mg/kg every 3 weeks until disease progression or unacceptable toxicity.
The main efficacy outcome measures were confirmed objective response rate (ORR) as assessed by an independent review committee (IRC) using RECIST v1.1 and duration of response (DOR). The ORR was 24% (95% CI: 15.9%, 33.3%) with a median response duration of 8.3 months (95% CI: 4.2, not reached).
The most common adverse reactions (≥25%), including laboratory abnormalities, were hemoglobin decreased, fatigue, lymphocytes decreased, nausea, peripheral neuropathy, alopecia, epistaxis, conjunctival adverse reactions, hemorrhage, leukocytes decreased, creatinine increased, dry eye, prothrombin international normalized ratio increased, activated partial thromboplastin time prolonged, diarrhea, and rash. Product labeling includes a boxed warning for ocular toxicity.
The recommended dose is 2 mg/kg (up to a maximum of 200 mg for patients ≥100 kg) given as an intravenous infusion over 30 minutes every 3 weeks until disease progression or unacceptable toxicity.
View full prescribing information for Tivdak.
This review used the Assessment Aid, a voluntary submission from the applicant to facilitate the FDA's assessment.
This application was granted priority review. A description of FDA expedited programs is in the Guidance for Industry: Expedited Programs for Serious Conditions-Drugs and Biologics.
A fully human monoclonal antibody specific for tissue factor conjugated to the microtubule-disrupting agent monomethyl auristatin E (MMAE) via a protease-cleavable valine-citrulline linker.
Tisotumab vedotin, sold under the brand name Tivdak is a human monoclonal antibody used to treat cervical cancer.[1]
Tisotumab vedotin was approved for medical use in the United States in September 2021.[1][2]
Tisotumab vedotin is the international nonproprietary name (INN).[3]
join me on Linkedin
join me on Researchgate
join me on Facebook
Anthony Melvin Crasto Dr. | Facebook
join me on twitter
Anthony Melvin Crasto Dr. | twitter
+919321316780 call whatsaapp
EMAIL. amcrasto@gmail.com
References
External links
//////////Tisotumab vedotin, チソツマブベドチン (遺伝子組換え) , FDA 2021, APPROVALS 2021, Antineoplastic, CERVICAL CANCER, CANCER, MONOCLONAL ANTIBODY, UNII-T41737F88A, WHO 10148