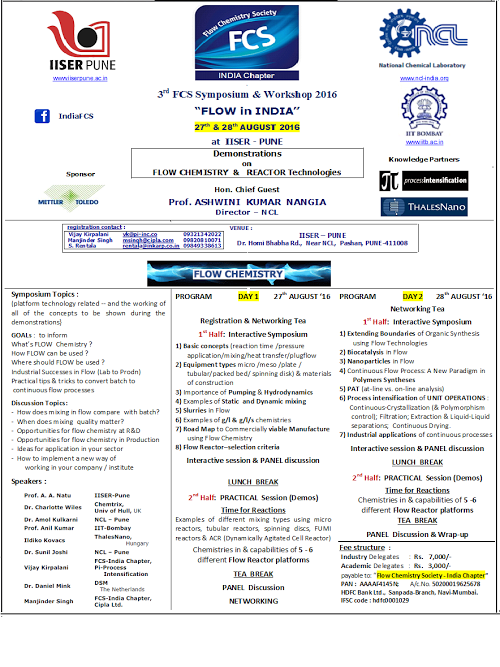 Flow Chemistry Society – India Chapter is assisting the proliferation of Process Intensification and Flow Chemistry across the country
After  an  enthusiastic  response  at the  2nd FCS-India Symposium & Workshop held at IICT-Hyderabad  in June'16  with  27companies and 115 delegates attending,  we are happy to announce :
The 3rd   2-day FLOW CHEMISTRY Symposium + DEMO Workshop is organized on 27th – 28th August 2016 at  IISER – PUNE  by Flow Chemistry Society – India Chapter (in collaboration with IISER-Pune,  NCL  & IIT-B) ,  with speakers & demonstrators from India, UK, Netherlands and Hungary.
Prof. Ashwini Kumar Nangia,  Director – CSIR-NCL has kindly consented to be the Hon. Chief Guest and inaugurate the Symposium & Workshop.
Both days have intensive interactive sessions on the theory and industrial applications of Flow Chemistry followed by  live–demonstrations  using              5 to 6 different Flow Reactor platforms –each day  from microliters to 10,000 L/day  industrial scale.
The Fees are Rs. 7,000 for Industry Delegates and Rs. 3,000 for Academic Delegates
The registration form  is BELOW
CLICK FOR REGISTRATION FORM 1-REGISTRATION FORM
contact : vk@pi-inc.co   or   msingh@cipla.com   or    rentala@inkarp.co.in 
Accomodation (optional)  : for Bookings please contact IISER-Pune Guest House directly
Mr. Charu Gurav; Mgr Guest Hse, managergh@iiserpune.ac.in   020-25908130    OR
Mr. Sreejit, Mgr-Catering, etc.    sreejit@iiserpune.ac.in    020-25908247
Tariff  per room night :  Rs. 1,500 (single occupancy) //  Rs. 2,000 (Double Occupancy)
best regards
 Vijay
                             Flow Chemistry Society – India Chapter
Vijay Kirpalani                                                                                      Manjinder Singh
President                                                                                Vice-President
email : vk@pi-inc.co                                                                         email : msingh@cipla.com
Tel: +91-9321342022                                                          Tel: +91-9321342022
CLICK FOR REGISTRATION FORM 1-REGISTRATION FORM
/////////